Rusch has created a dedicated Demolition Machine
with excavator and crane technology combined:
Stronger
Rusch increases the strength of the standard Excavator with 30%. The stronger structure allows the use of bigger cylinders to maximise the use of the available hydraulic power.
More stable
30 years of experience in Crane Technology makes it possible to modify the excavator to become as stable as crawler cranes with booms up to 90 mtr.
Safer
Rusch Demolition Machines are equipped with a safety system that actively takes action to ensure the safety of the machine and the operator.
Easy to transport
Designed to fit each part either within a container or within the limitations of road transport. Machines can erect itself without use of an external crane or device.
Introducing three types of heavy machines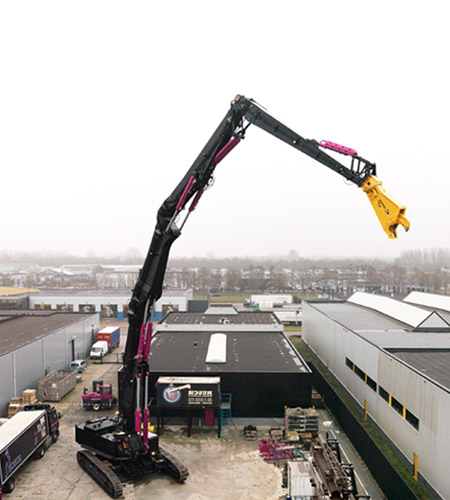 RS 4500
60 mtr telescopic high reach with 5T Crusher
42 mtr Quattro boom high reach with 5T Crusher/Shear/Hammer
32 mtr Triple boom high reach with 10T Crusher/Shear/Hammer
24 mtr Deep Reach with ripper boom with 5T tool
More Details
This versatile machine is although big in size still easy to transport, ideal for the short projects up to 6 weeks. With the 5T tool at 42 mtr still unmatched.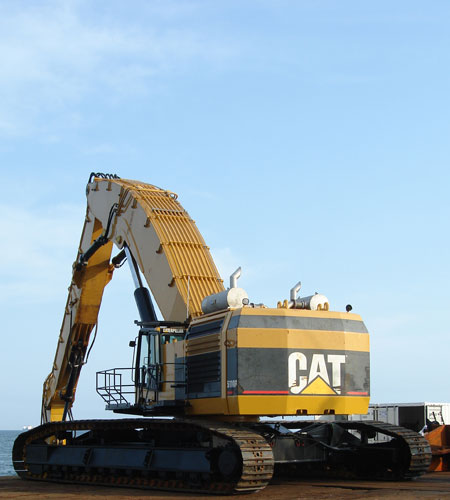 RS 6000
75 mtr telescopic high reach with 5T Crusher
42 mtr Quattro boom High reach with 10T Crusher/Shear/Hammer
32 mtr Triple boom High Reach with 15T Crusher/Shear/Hammer
28 mtr Deep Reach with Ripper boom with 10T tool
More Details
For the bigger projects is this machine the ideal choice. In telescopic mode up to 20 stories buildings and in Triple version very strong with a 15T tool at 32 mtr.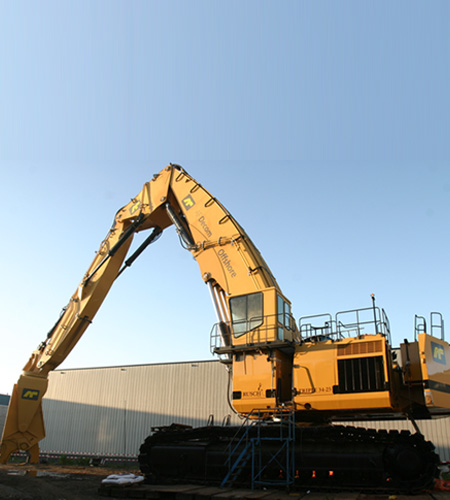 RS 7500
90 mtr telescopic high reach with 5T Crusher
42 mtr Quattro boom High reach with 15T Crusher/Shear/Hammer
32 mtr Triple boom High Reach with 25T Crusher/Shear/Hammer
28 mtr Deep Reach with Ripper boom with 15T tool
More Details
The ultimate demolition machine for the heaviest structures. Ideal for removal of nuclear power plants or Oil & Gas structures.

True Demolition Machine
A real demolition machine instead of an adapted earth-moving machine.

High-quality Steel
High-quality steels (4x as strong as earth-moving machines) make it possible to construct lighter.


Innovative Technology
Using unique crane technology instead of earth-moving technology.

Safety First
Protection is super safe, just like a crane. Earthmoving manufacturers do not yet have this protection.

Best Stability
Rusch knows everything about stability through his crane expertise (-> higher machines).
Interested? Learn more from our experts
Tall Buildings
The RS series equipped with a telescopic boom is the ultimate High Reach Demolition machine you can buy. With a range from 60 -90 mtr (180 -270 ft) still with a 5T Crusher or Shear the RS series is unmatched. The telescopic system consists of a two stage telescopic boom, a "fore boom" and two sticks. This will give besides the required height a distance to the building of 25-30 mtr due to the good stability of the machine.
The telescopic boom uses a telematic cylinder system, meaning that there is just one cylinder to telescope the boom in and out. When the first section is brought out, the section is "wedged" and locked. After this the cylinder travels back to pick up the next section. "Because of the wedging system there is no clearance between the boom sections, ensuring a smoother operation. The telematic system also means that when working the cylinder at a low position, better stability will be provided.
Nuclear Plants
For Nuclear plants you need heavy equipment. For this the knuckle boom configuration is designed. The max. height of the knuckle boom is 42 mtr. with four sections. When you take one section off your reach will decrease with approx. 10 meters, but your allowable tool weight will increase with 5T. The load radius diagrams of each configuration is already programmed in the computer. The machine automatically switches over to the right safety program when you take one section off.  The RS 7500 is the ultimate machine for this work.
With crushers/shears of 30T own weight up to a height of 32 mtr, this machine can take almost everything down in a controlled manner. As our machines are all custom made we can make your machine remote controlled, with special protection of the cabin or special features in our safety system to recognise dangerous areas due to radiation, whatever is needed for the job.
Ship recycling
Ship Recycling is mainly working with heavy shears. For under water activities Rusch designed a maritime version that makes use of the Ripper boom together with the two sticks of the knuckle boom. Depending on the RS type you can get to 24-28 mtr deep with still a 10T-15T shear.
All cylinders of these types will have a maritime execution and special care will be taken for the greasing system and the protection of all items that go underwater. The machine itself will get an offshore coating through out protecting your machine against the environment.
For Ship Recycling yards, Rusch designed a one stage telescopic boom that can take a 15T shear up to 55 mtr (RS 6000 and 7500) to cut down ships in an orderly manner and 20 times faster than with a torch.
Oil & Gas platforms
The decommissioning of Oil & Gas production platforms are ideal for the High Reach knuckle boom machines of Rusch. With the capability of 42 mtr. and heavy tools these machines can decommission every platform in a controlled manner.
A design study has been made to place one of our machines on an offshore crane pedestal to cut the platform piece meal on the offshore location. Due to the extreme reach and the low overturning moment of the machine this was a possible option.